USB over Ethernet
USB over Ethernet is a professional software solution allowing to redirect USB devices over network. You can connect to a shared USB device and use it just like it is plugged in your machine. The program includes both server and client functionality, but a separate free client is available as well.
It gives you the ability to:
Share USB devices over Network

Connect shared USB devices with a free USB over Ethernet Client

Work with remote USB devices as if they are plugged directly into your computer
Trial version limitations
USB over Ethernet software is useful for everyone who needs to work with USB device that is physically plugged into remote computer. And computer is located in another building or even another city.
USB over Ethernet is easy to install and use. The program does not require any special knowledge and installs easily right out of the box.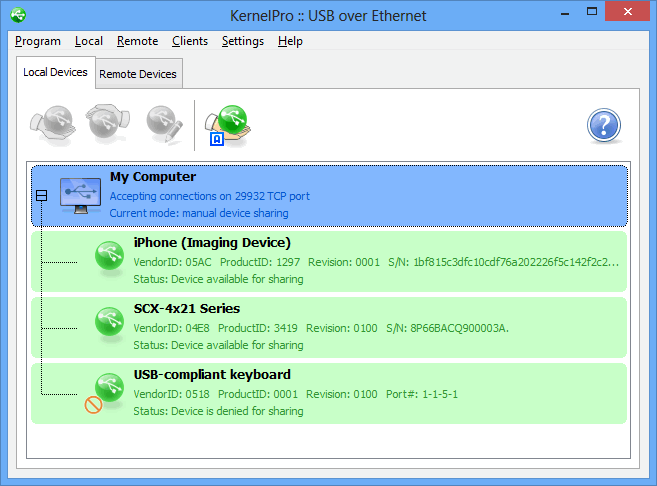 Features
USB 1.1, USB 2.0 and USB 3.0 supported

Compatible with Hyper-V, VMware and other virtual machines

Device sharing, unsharing, connection and disconnection on-the-fly

32-bit and 64-bit compatible

Supports isochronous USB devices

Auto-connection and auto-sharing of USB devices

Broken network connection auto-reconnection

No USB device driver is required on server side

Deny sharing or connection of specific USB devices

USB server and USB client parts can be installed on the same computer

System tray icon for quick device sharing/unsharing and connection/disconnection

FREE

USB over Ethernet Client for connecting shared USB devices
Step-by-step instructions of using USB over Ethernet:
Download and install USB over Ethernet on the computer where USB device is physically plugged in

Start the program

Share USB device:
Select needed USB device in the list of main window

Click Share button. Device becomes shared and available for connection by a client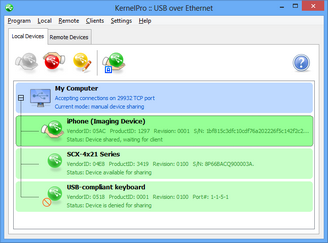 click to enlarge
Download and install USB over Ethernet Client on a computer where you'd like to use your USB device remotely

Connect shared USB device:
Add remote server with shared USB device to the list

You will see the list of USB devices available for connection

Select necessary USB device from the list and click Connect button or select menu Remote->Connect Device: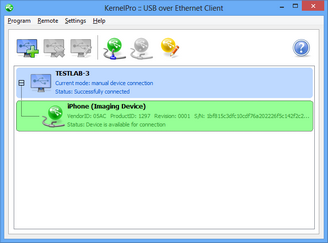 click to enlarge
It is that easy!
System Requirements
Administrator privileges required to install or uninstall USB over Ethernet.
USB over Ethernet works on the following operating systems (both 32-bit and 64-bit):
Windows XP

Windows 2003 Server

Windows Vista

Windows 2008 Server

Windows 7

Windows 2008 R2 Server

Windows 8

Windows 2012 Server

Windows 8.1

Windows 2012 R2 Server

Windows 10

Windows 2016 Server

Windows 2019 Server